Winter whites
21 January 2014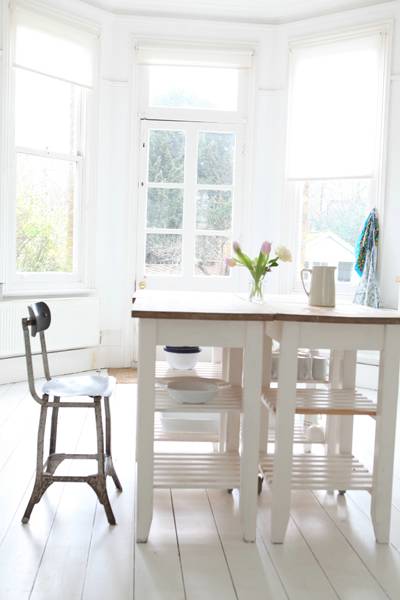 The cat and dog look at me hard as I shut the door to the kitchen. I read their stares as `what is she doing, denying us access to FOOD ? ` But I don`t want them decorating the freshly
painted
white floor which is wet and drying slowly slowly because it is oil based . The long drying time is worth it because the result is hard wearing, like enamel. And this is good for repelling the assault by the heavy boot wearers and furniture draggers of the shoot world. The chalk-on-blackboard screech as a bed or sofa is grated across the boards propels me out of my hidey office hole like nothing else. Thankfully most people are brilliant and careful when they come to use the house.
It`s as if I`ve gone on holiday to a fresh new space . I`m inspired to invest in a a new
steam
cleaner to keep it looking that way. Quite sceptical about housey gadgets but this is rather wonderful like a steam iron-with-pad on astick. The thing works well if I apply a firm pressure - in the manner of mowing the lawn. Rather meditative, too, as no interruptions for rinsing like you have to do with a traditional mop and bucket.
PS Cat and dog food bowls relocated so they don`t go hungry.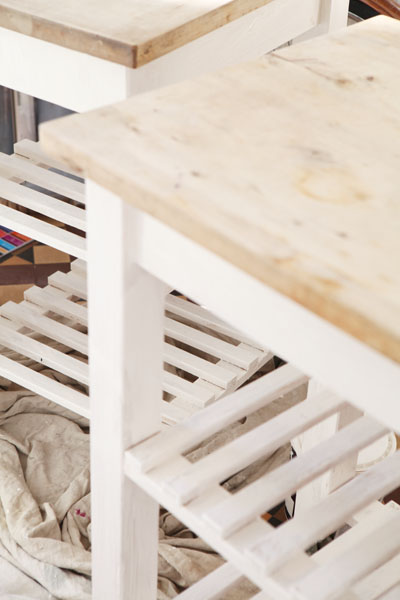 I also update the central island units with a coat of water based
`diamond`
eggshell, which does do what it says on the tin but obviously wouldn`t be up to something like a floor painting job.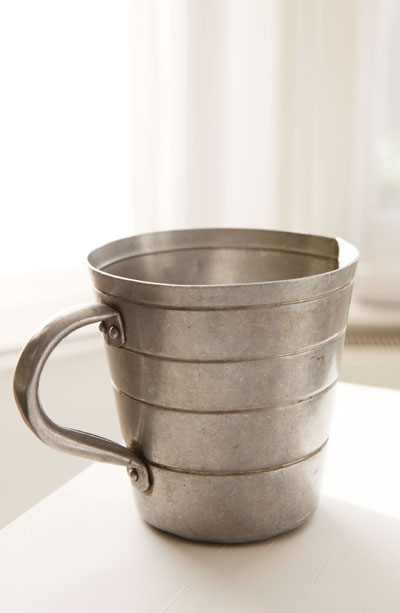 Number one unreliable gadget, the car won`t start. Into garage and the blissful engine hands of Panos. Bicycle main form of transport and so I wobble off with dog on lead tied to handlebars. I am multitasking:dog gets walk in park and I can get to the market to load up with birthday party ingredients for son turning 25.

As ever, Herne Hill Market is a treasure trove of edible delights : rock oysters from Poole in Dorset and leafy greens to start with. Bicycle basket filling up , but I can`t resist retro jug above, and green retro Pyrex glass below. Makes up for the vintage olive oil jugs I backed out of at Fuseta market the other week. The last stop turns out to be the west country cheese man, whose extra mature cheddar is mouthwatering. I feel the dog tugging and sniffing , trying to get under the stall. Bike , dog and me, almost a heap on ground, when west country cheese man shouts,` `Oi its got my lunch` and bends down to retrieve a half finished carton of curry. Wishing I wasn`t there, I offer replacement and buy an extra slice of goats` cheese . Time to leave.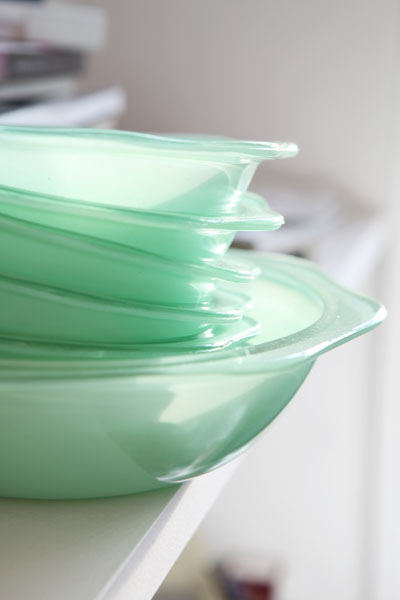 Incident free on the ride home. I bake a birthday cake involving much chocolate and caramel sauce. The canine, not chastened of course , lurks by my feet waiting for a tasty crumb to drop. .... I have to admire her dogged persistence.


Tags: winter simple decoration white retro vintage, white paint,

Striped style
29 October 2013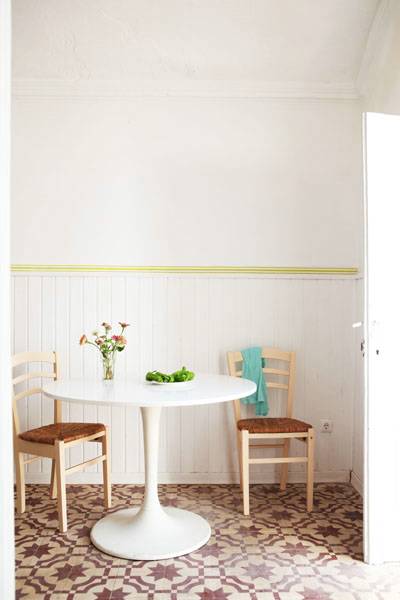 Our Pure Style paper borders are the best things to decorate your life inside, and out. They come in 8 modern colourways and to fix, require little more than a spirit level and a few dabs with the glue brush. We`re selling to clients who want to cheer up kitchens and hallways or give a new look to a bedroom. Great for more temporary nests, too: students can get away with decorating their Cell Block X accommodation, just as easily as any other renter, since the borders can be stripped off at the end of term or lease. Buy one... or two or three... NOW!

See Fennel border , above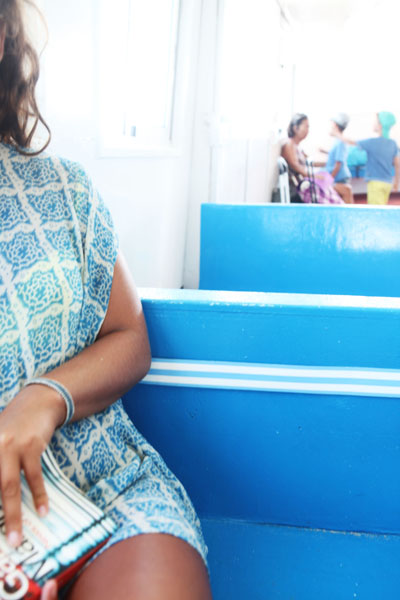 Cornflower border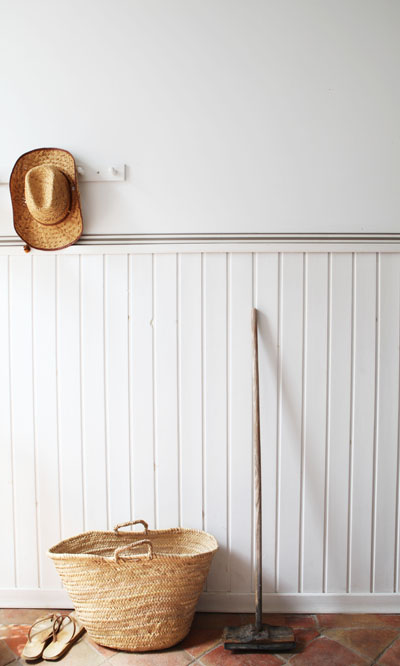 Toast border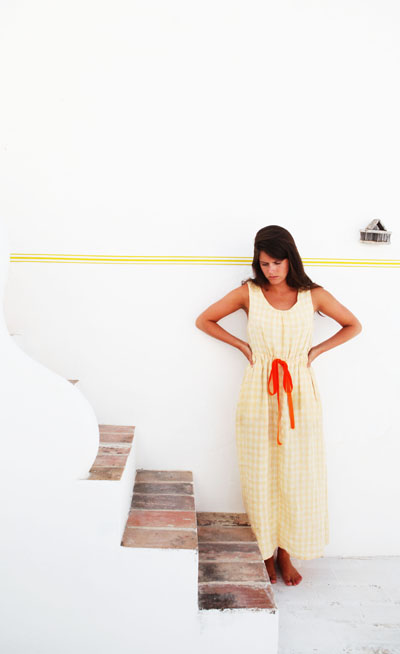 Quince border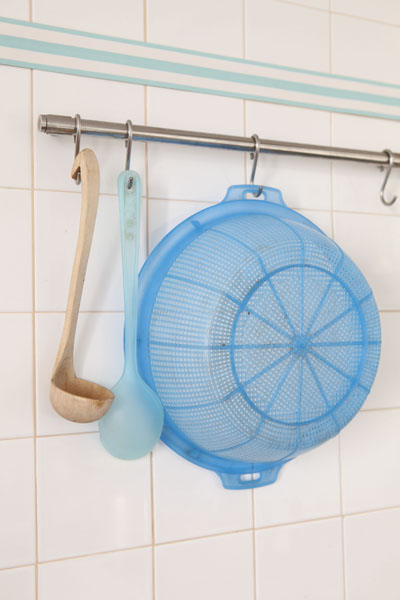 Duck Egg border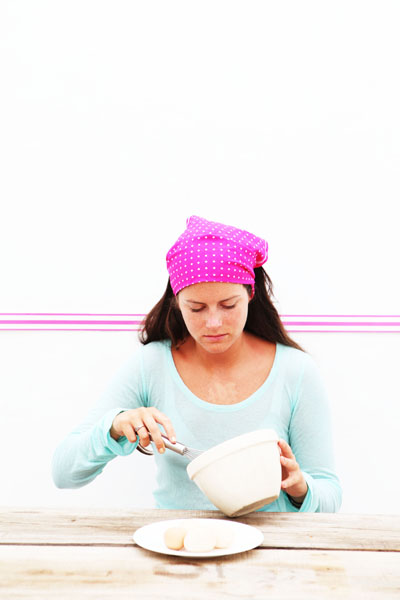 Rose Petal border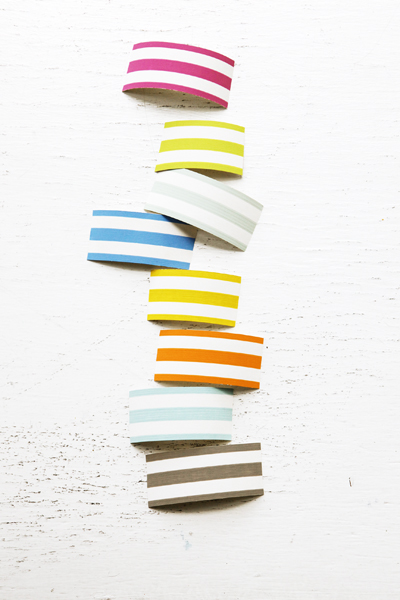 Pure Style borders are available online in our
shop

Tags: colour, simple update, paper borders, simple decoration

Borders on show
01 October 2013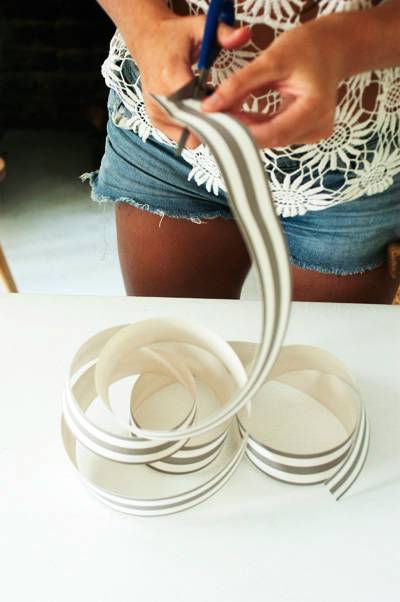 It`s the time of year for London`s crop of interior design shows. Last week, much excitement! our Toast wallpaper border, see above and below decorated the World of Interiors stand at Decorex.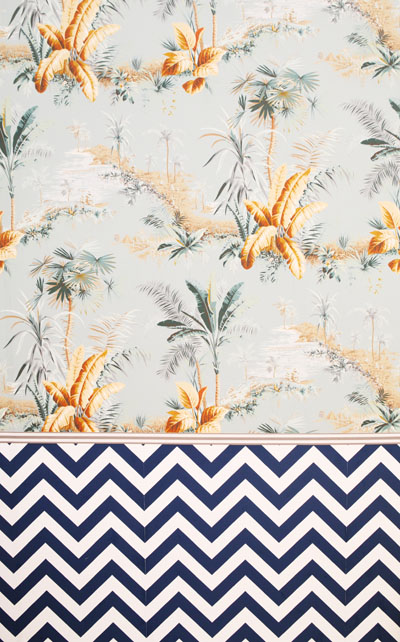 I manned the House & Garden stand at the same show, during the eighties` when chintz prints, swags and bows and frilly Austrian blinds were the life blood of interior decoration. The aesthetic today is so much more eclectic, everything from modern textures to retro Cabbages and Roses chic.
My Pure Style eye is caught by tiles in jewel colours from
Habibi
and
Bert&May
.
Hibou
wallpapers and fabrics for children have a Cath Kidston flavour, but in a less sugary palette.
David Seyfried
supplies among the best small classic sofas that I have seen since I purchased two from him over twenty years ago. And there are beautiful one-offs from
Fine Cell Work
Fine Cell Work a social enterprise that trains prisoners in paid, skilled, creative needlework.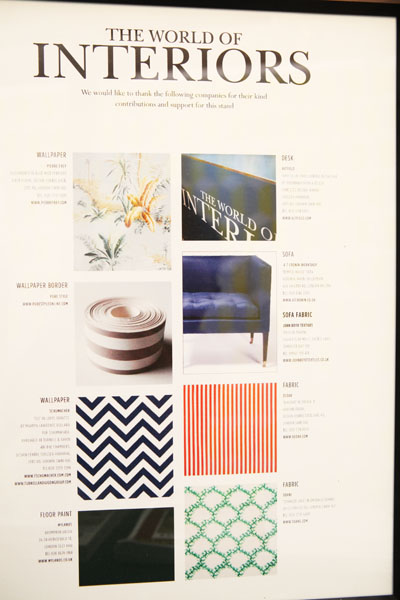 Tags: Pure style borders, simple decoration,