Spring thoughts
30 March 2020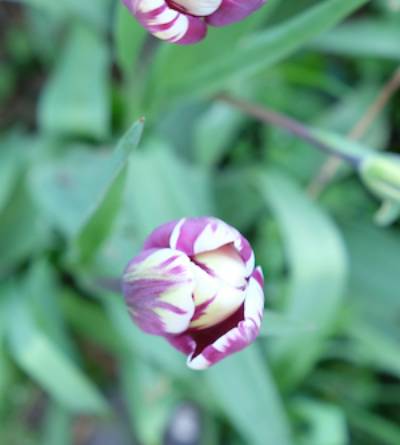 Some good things: road use is down to 1955 levels and the garden powers on in lockdown. The first raspberry ripple
Bicolour flaming flag
tulips are blooming and the apple tree is budding- simple pleasures to alleviate anxiety and the hit by a hammer effect of social distancing and self isolation. Mad humour to match mad times is a good antidote: the vide boss unintentionally appearing as a virtual potato in a group office meeting on Zoom the new way to connect whilst we are stuck inside. I have had my usual pilates class via Zoom and even if we were not together in the flesh it is connecting to see everyone else, to get a glimpse of each others sofa arrangements plus a show and tell of pet dogs, cats and even a lizard.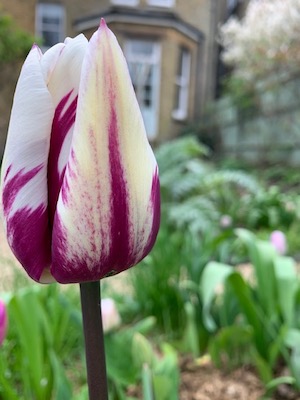 31st march

A host of white and golden narcissi under the apple tree.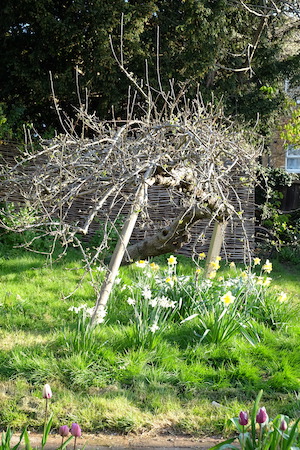 30th March
Fresh and varied Vegetable box delivered from
Smith&Brock
wholesaler who have miraculously reworked their business mode in response to the lock down of events, hotels restaurants and bars and are now sending out consumer deliveries.
Vegetable box candy coloured beetroot and carrots - plenty of time to play around with art now .....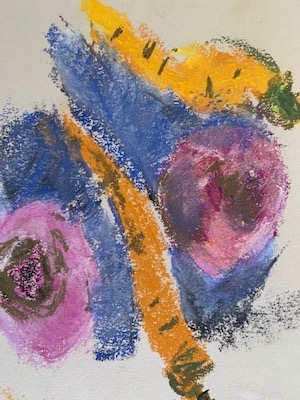 Rescue soup kitchen in our picnic thermos and a posy of spring flowers from the garden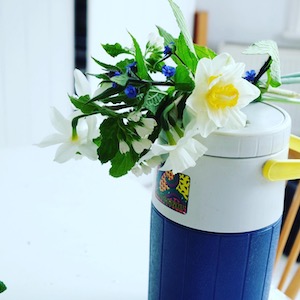 A friend with suspected covid now has pneumonia and so I make her some pea and mint soup. I leave it at her doorstop and wave from at least 2 metres away. She reports that it`s fresh and soothing on her throat. Worrying times.
Pea and mint soup: chop 1 onion, 4 garlic cloves, 2 peeled potatoes, add to a pan with l litre vegetable stock. Bring to boil and simmer for 15 minutes until potato soft. Add handful of chopped fresh mint leaves, 500g frozen frozen peas (petits pois sweeter), juice half lemon, and bring back to simmer for 5 minutes. Season with salt and pepper. Whizz in processor. Can serve with sour cream/creme fraiche/yoghurt.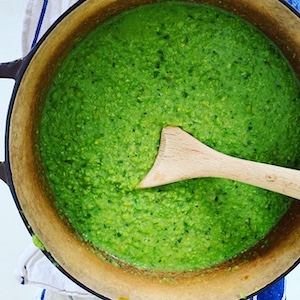 Social distancing in Brockwell Park: a quick charcoal after my run along with everyone else on their once a day exercise, now that we all have stay in. The sun is streaming, sky is clear and the streets are empty. I miss the cold clear lido... Don`t know when we will be swimming again.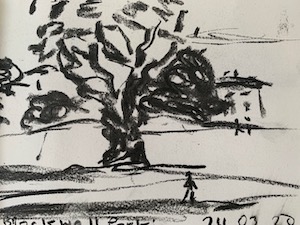 The new gravel is satisfyingly crunchy and adds definition to the beds which are growing in profusion. Think the alliums are going to be fabulous this summer . In the background are my newly planted box plants... I am taking a risk because box blight destroyed the previous hedge but with all things in the garden its worth having another go ..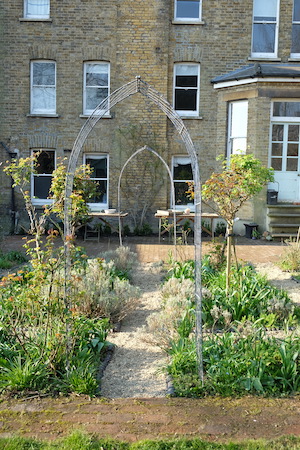 At least the garden`s ready for lockdown even if I`m not. I`m more than lucky to have this space when so many people in London will have to endure confined conditions.

For those new to my garden here`re some notes on my plans for the garden when we moved here in 2003
FROM MY GARDEN BOOK NOTE BOOK: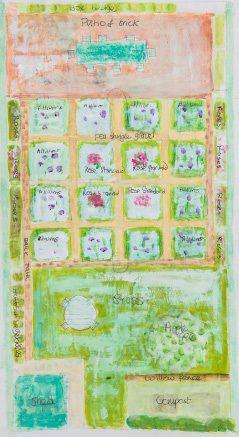 Winter is the time to plan and dream. And over the first one at Palace road I read up on gardens and gardeners, great and small to get me going on the new garden I will dig with the help of Tommy and his gang later in the year. Alexander Pope's advice to the Earl of Burlington – that the gardener consult the genius of the place could certainly apply to my back garden as much as to the 18 century earl's sprawling acreage . The genius in this place is its spacious and leafy,suburban proportions. Where to start?
I rough out a basic plan and thoughts in a notebook. I envision the garden as
a series of outdoor spaces: a journey for the senses, a mix of the formal and
informal , with places to sit and eat or contemplate on a blanket under a blue
sky. Three sections emerge: a patio, a central flower and herb plot divided by
gravel paths and planted at the corners with wigwams of beansticks, and the
grass area at the end with the old apple tree and garden room,. The brief :to
keep it simple, functional, and beautiful. Simple in the sense of layout, functional
in not having time consuming plants, and beautiful in terms of texture
colour and sensuality. Possible obstacles to dash my plans: the unvisual prospect
of a trampoline - at the time my children were begging for one.
I also look with increased focus at the cottage gardens and allotments
on which I will base my ideas. The forerunners of sweetly cobbled or
brick paved front gardens brimming with little clumps of the season's first
snowdrops , near me, and of my own childhood back garden for that matter,
go back to the Middle Ages, and earlier when green fingered monks tended
flowers and herbs in cloister and courtyard gardens. Enclosed by a wattle
fence, hawthorn hedge or stone wall.

23rd March

As the country closes down, loo roll is like gold bars and birdsong takes over from the roar of aircraft, it`s a race against lockdown to ren novate the gravel paths between the flower and herb beds. Gavin and and Karl are my right hand garden team digging out the existing gravel, now thick with weeds and earth spillover after the most torrential winter I have known , and laying down a permeable plastic membrane on which will be spread a thick layer of pea shingle gravel. This should be more weed repelling than previously because the plastic butts up against the earth border of the flower beds.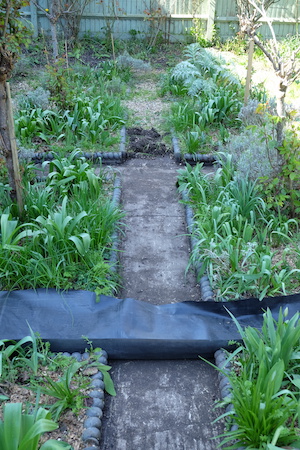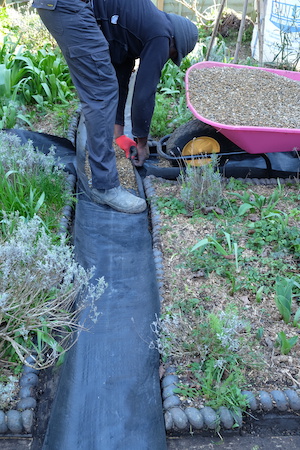 Tags: spring, garden, tulips, lockdown, covid-19, simple, style, growing, coronavirus, everyday beauty,