May blog
28 May 2020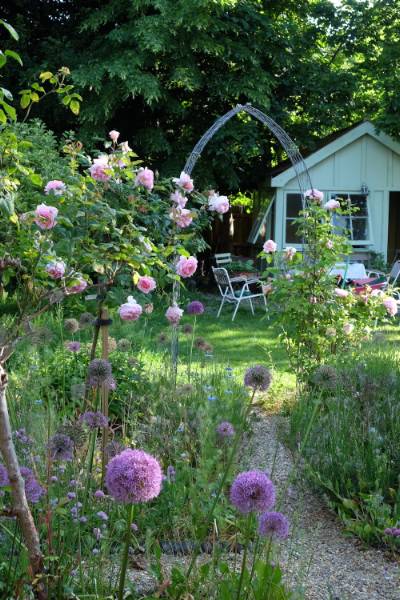 After over nine weeks of Lockdown (the last three with more relaxed rules) time merges from one day to the next in a kind of calender limbo. It must be Thursday because I have Zoom pilates. The weather has been sublime for May and the garden is blooming in a way that it hasn`t before, as if nature is putting up an extra show of defiance against Covid . I notice the garden and its comings and goings so much more being home most of the time apart from excursions to the DIY shop, and a bike ride on my newly acquired sit up and beg Orbea bike - a Spanish company and pleasingly made in Portugal. The roses are magnificently cabbagy pink and scented including the newish Ancient Mariner standard ,see above, which is in its second year here, and has burst forth with many flopping blooms, that pale to vintage pink tones like faded roses on a fifties frock. Dear Constance Spry and Gertrude Jekyll are surpassing themselves on both fences and St.Swithins` heady scented pink whorls are simply fabulous climbing up above the metal arch. With little rain to speak of, the slug and snail threat is low and for the first summer in years I think my beans are going to do good... are springing up in their biodegradble peat pots like gangly youths straining to leave lockdown.

Seen here are Dwarf beans, at the other end of tray there are Runners.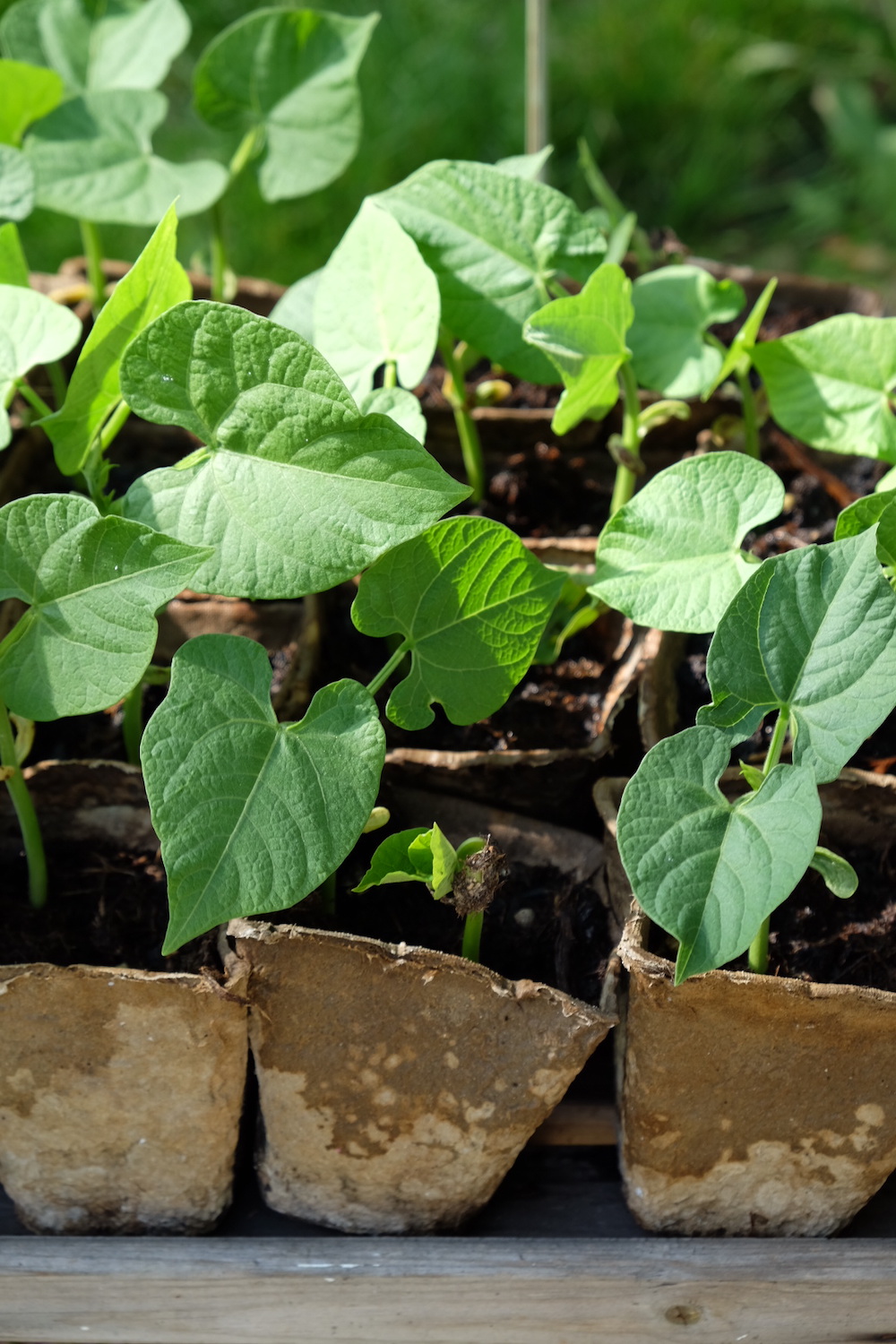 20th May

Constance Spry rose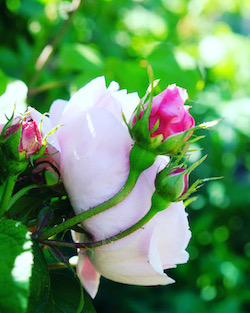 15th may

Peony : Luscious and deep fuschia pink. A wonderful memory of my mum who grew the original plant in her Wandsworth garden. After she died in 1999 I divided it and brought it home to the garden.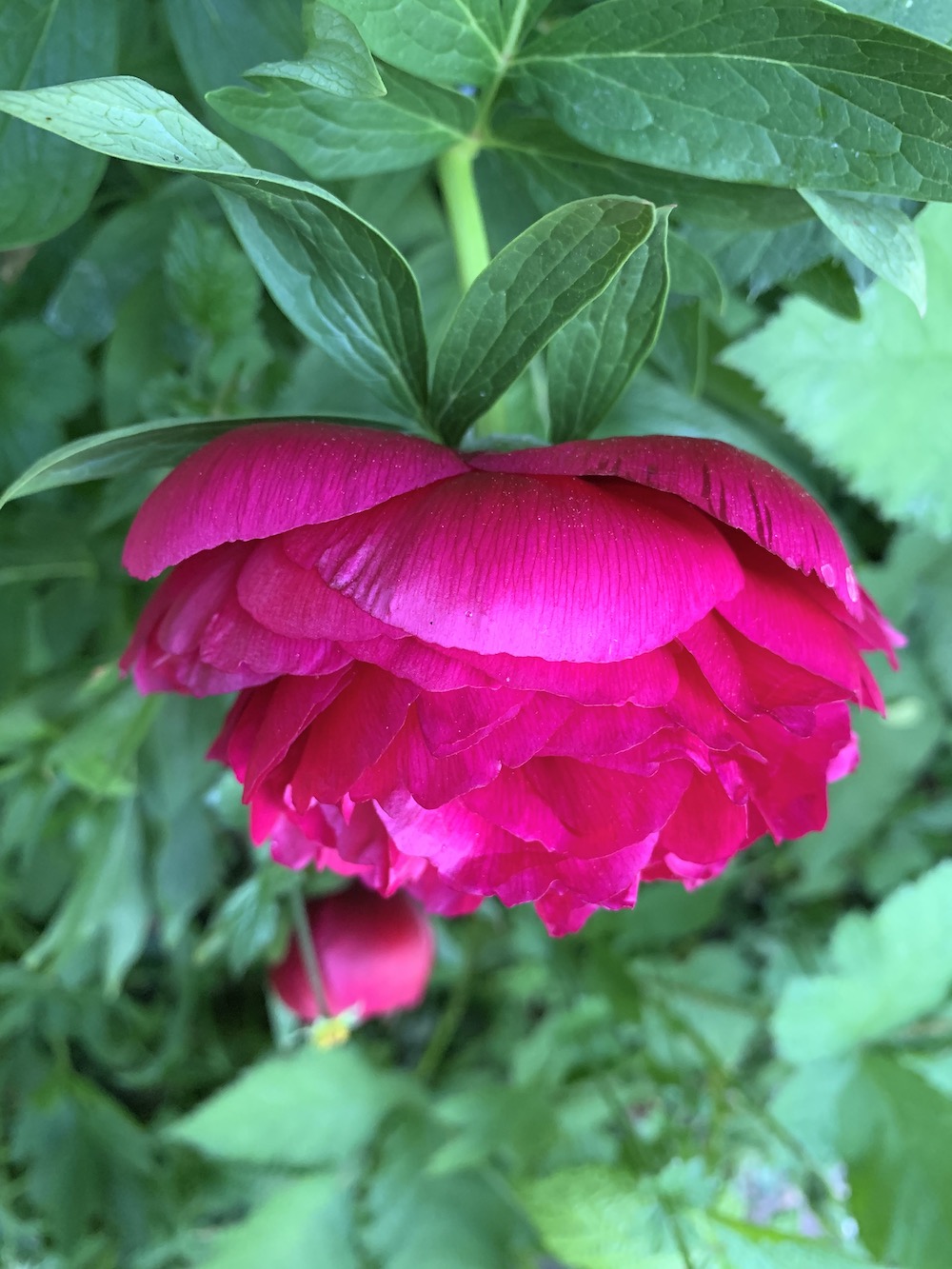 St.Swithins... not unlike Constance above you might think, but its all in the detail, and once close up the scent is much more subtle, the petals paler and the general structure, looser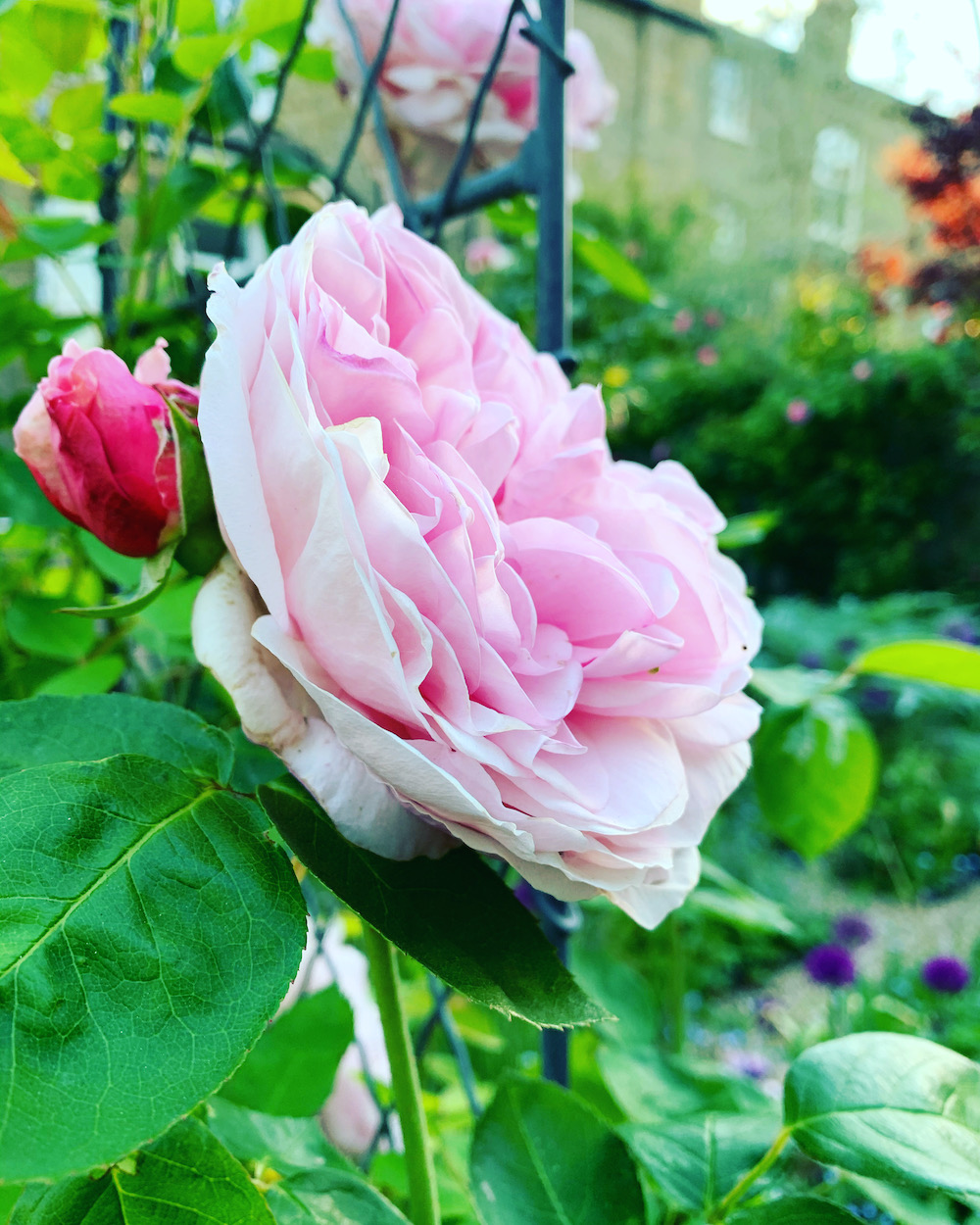 14th may

Exciting to think of what lies in the future for these little pots of compost with bean seeds tucked up inside waiting to germinate. A few sturdy shoots are poking up and breaking free.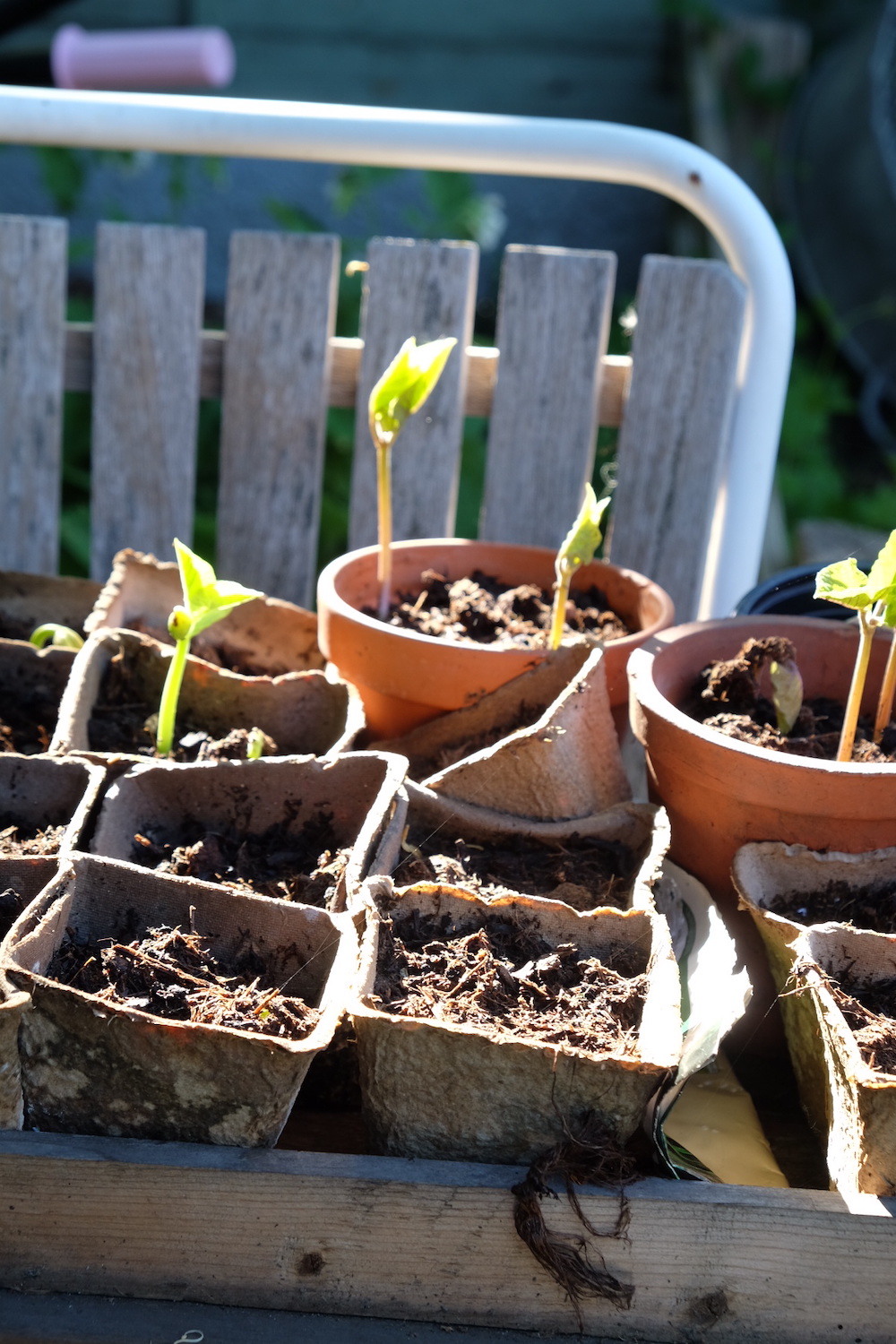 14th May

With the dying back of the tulips, the alliums now provide more rich purple garden colour.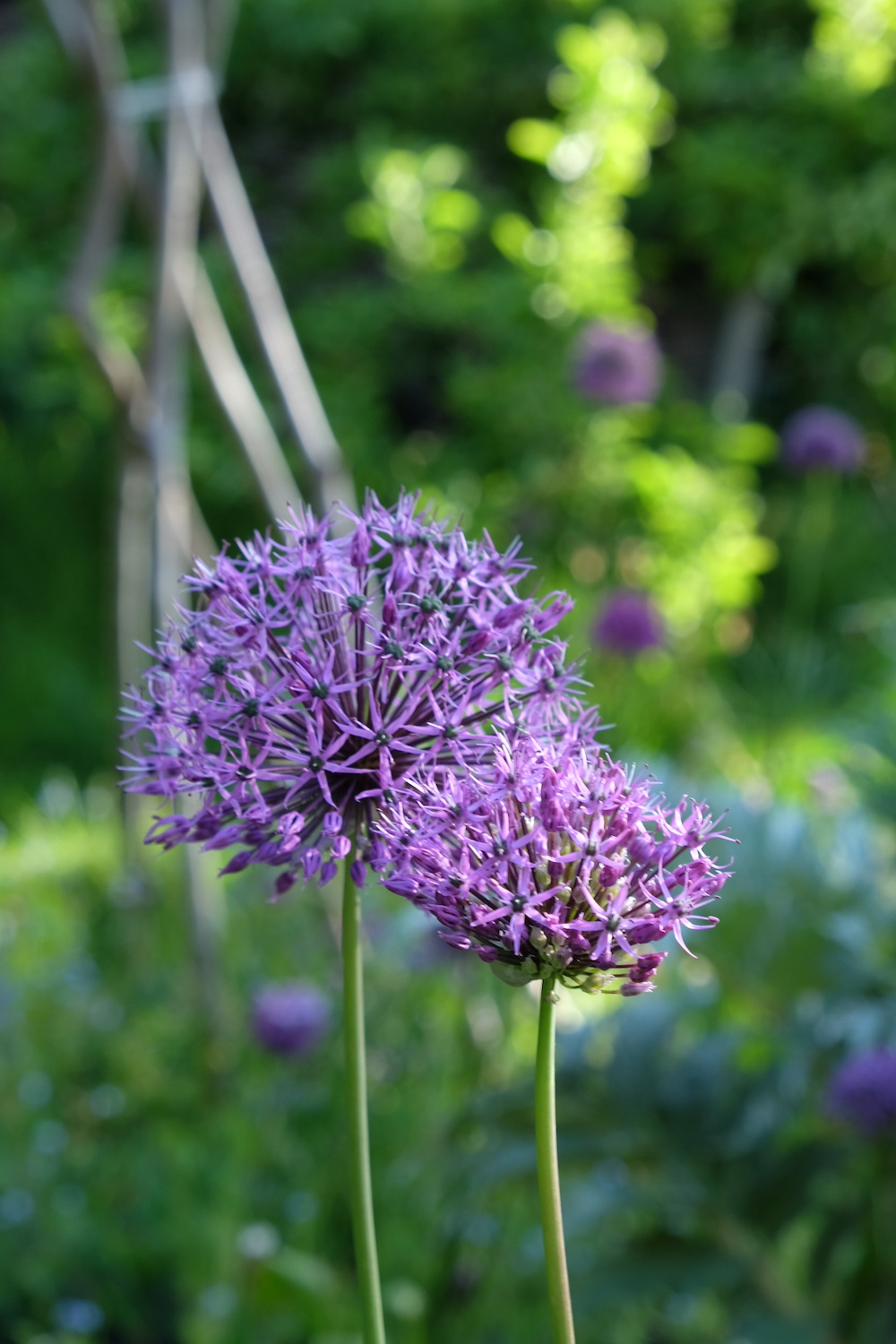 5th May
The tulips are on the wane but the first swifts are skywheeling towards summer. `They`ve made it again, which means the worlds`s still working ` Ted Hughes. Recycled glass jars are my tulipieres for these single stemmed beauties, and make a few go a long way.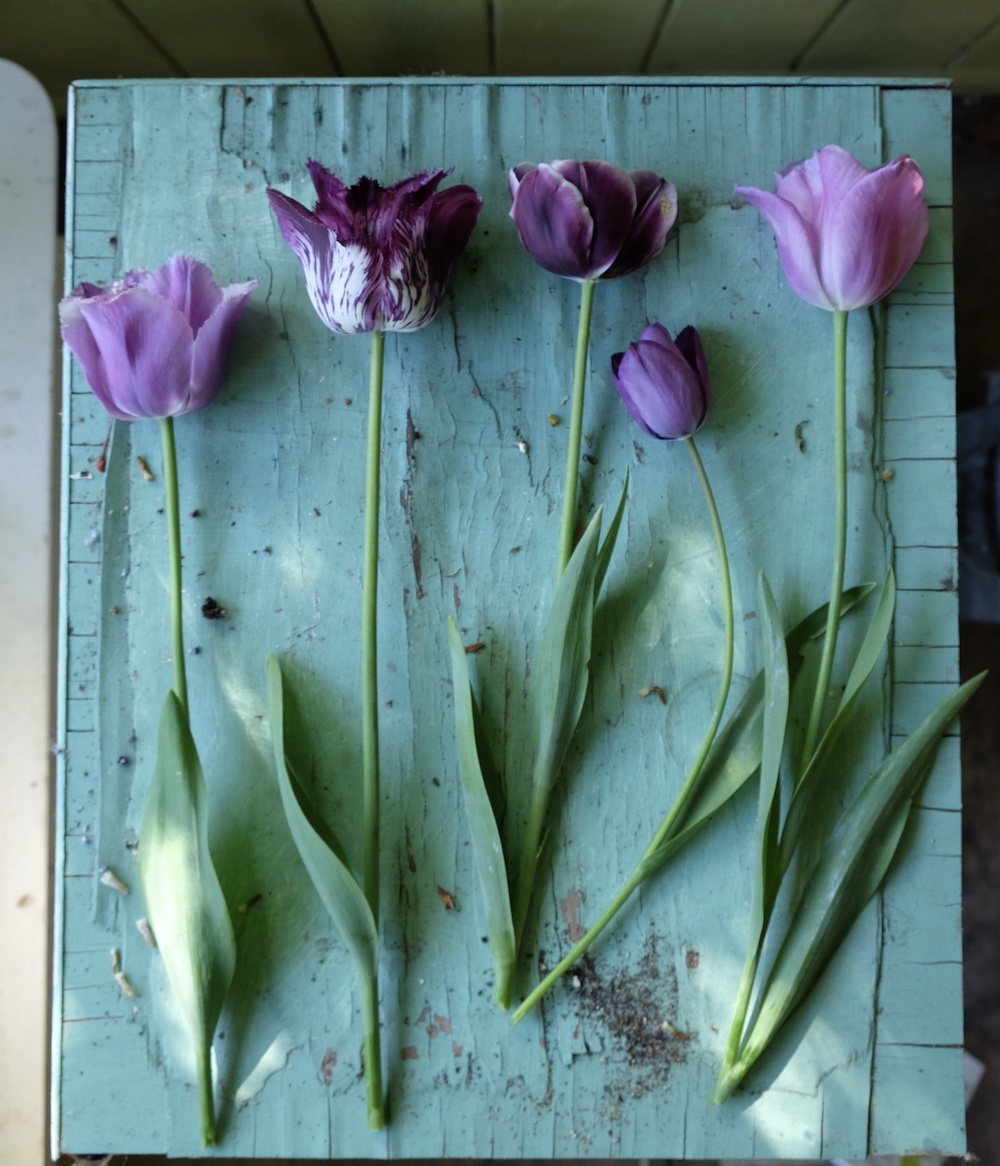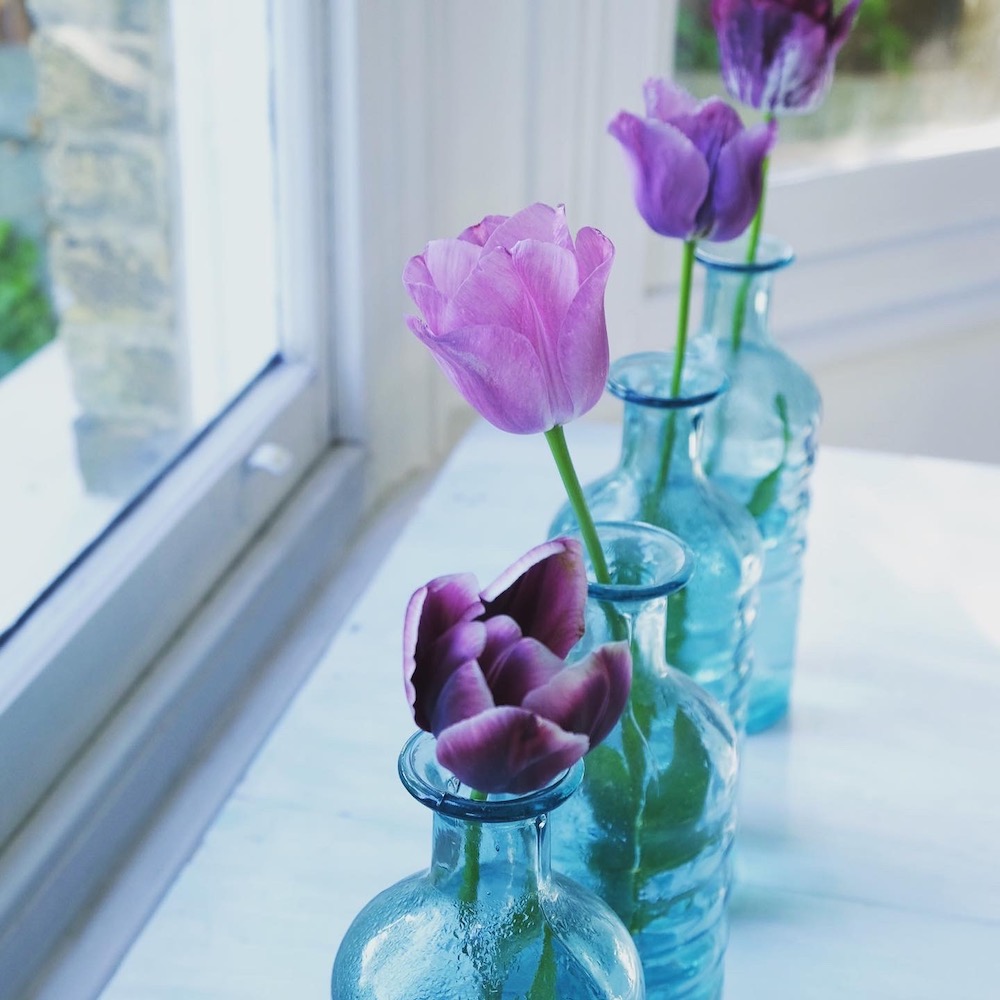 7th May

Spring brings so many pretty herbs and wild flowers. ... Here I`m with the wild bunch: comfrey, commonbugloss, lemon balm and a rhubarb leaf, which all add to the wild shaggy look of the garden and are a simple look inside where I put them in a vase on the table.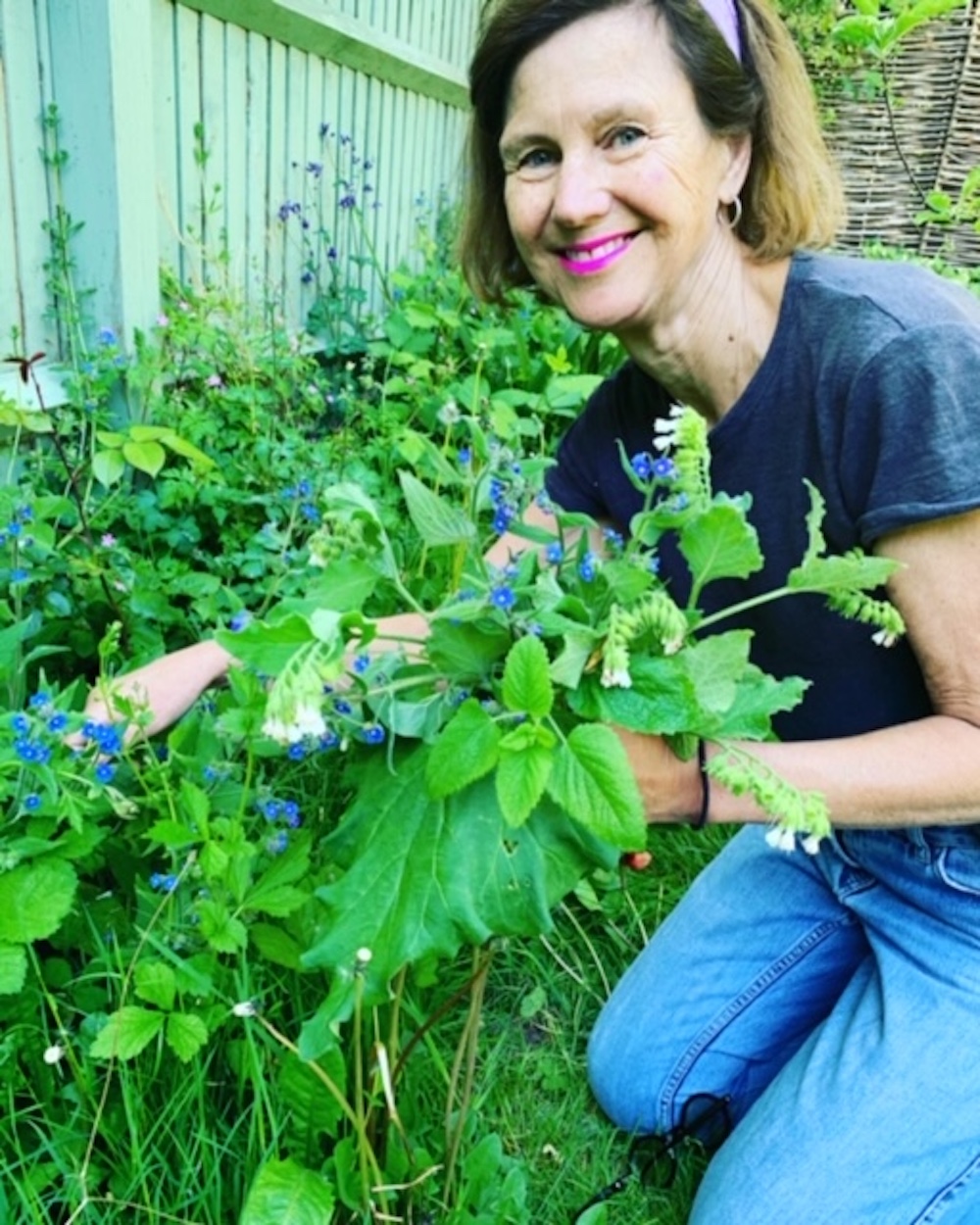 4th May
Over the weekend I made butterfly cakes and a birthday card for close gardening nut friend. I am most industrious when no parties on the horizon. The wire rack is another of my mum`s tools - another old friend for me in the kitchen. I even crystallised the lilac flowers.. quite easy and sweet lilac flavour. Dip flowers in egg white , dip in caster sugar using tweezers, dry on baking paper for up to 36
hours . You can find the cake recipe on Instagram @janecumberbatch ... From my book Pure Style Recipes for Everyday/Pavilion.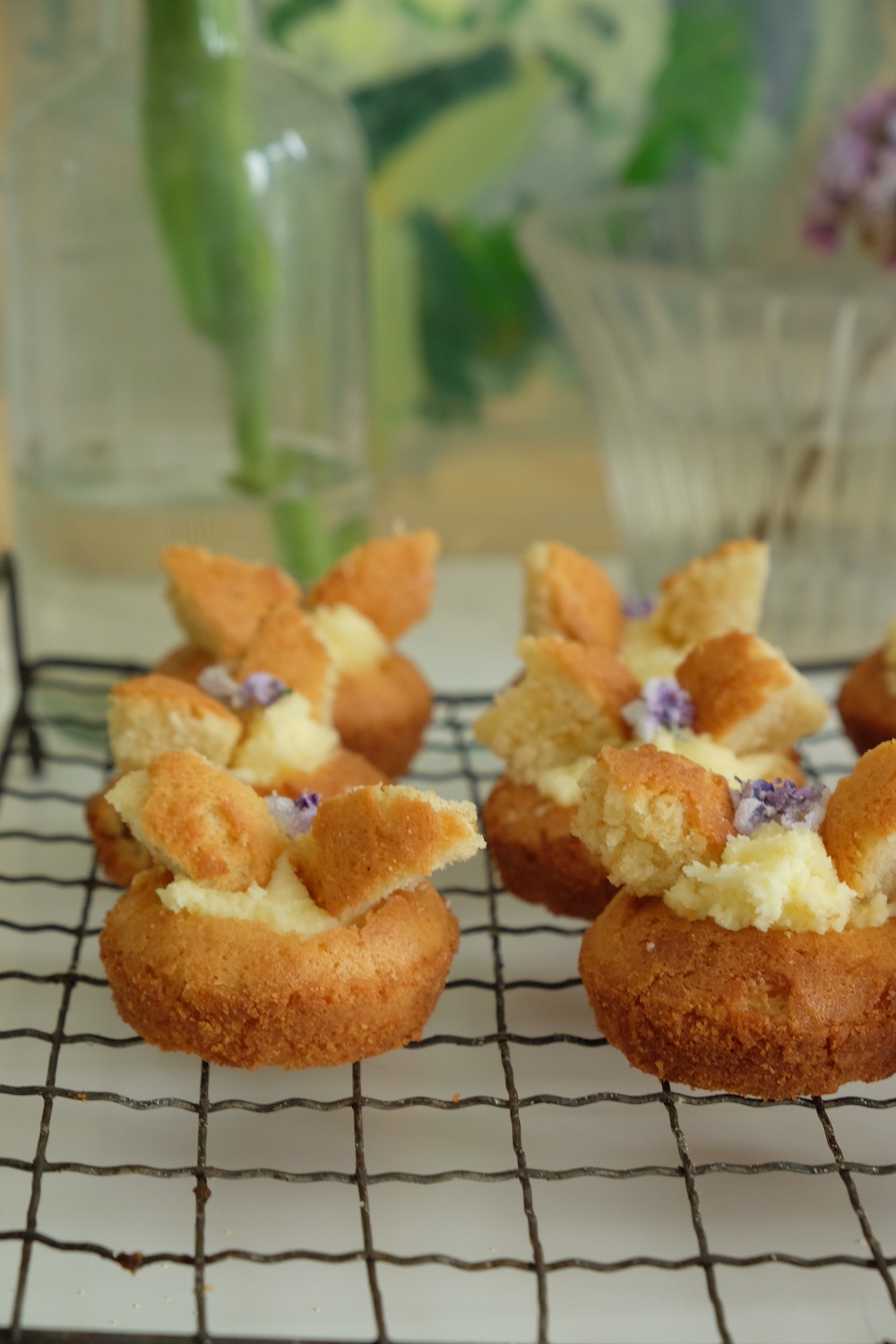 Tags: tulips, springgarden, lockdowngarden, covid, roses, wildflowers, butterflycakes,

April blog 2020
29 April 2020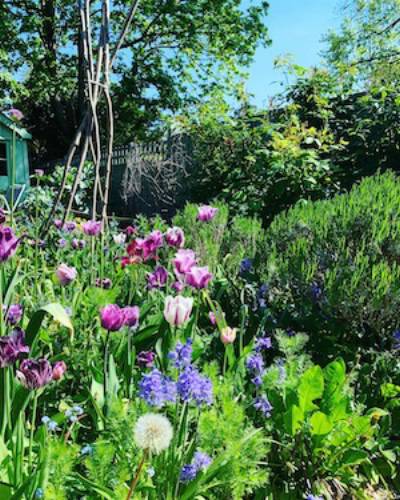 Monday 27 April

Six weeks in and with glorious weather lockdown has at times the feeling of an endless summer holiday albeit one without the sense of an actual ending, or what might lie on the other side.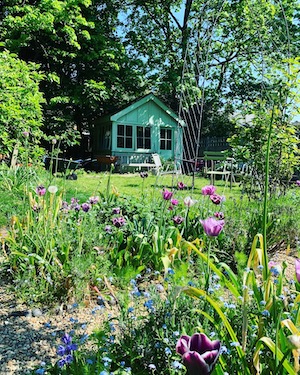 Getting to grips with how the new normal will be for work; winging it and re- invention seem to be the order of the moment. The publishing industry is mothballed, but I'm ploughing on to complete my new Pure Style book with Vanessa Courtier my long time collaborator. As my potential publisher says, it will be easier to sell a finished book once things get moving again. I`m enjoying the focus and chance to research.
Editorial and advertising shoots have come to a standstill. The days are gone it seems of 30 unsocially distanced people pitching up here to make a commercial. The June/July cover of American Vogue is an Irving Penn close up of a rose, the magazine's first still-life cover in 50 years and photographers who co-habit with a spouse, partner or adult child model are offering ready made at-home creative teams. Am sniffing the air to see whether this idea might be where the house and I will be heading….
Life and reassuring continuity goes on in the garden. Luminous spring greens against cobalt sky are David Hockney exuberant . Tulips still brimming even if some on their way out and the alliums are on the way to becoming centre stage, every soon with leggy detail ideal for creating height and splashes of purple colour. It`s dry out there but several days of rain are forecast. (As I write the weather has flipped over night and torrents are giving the garden a good drink) .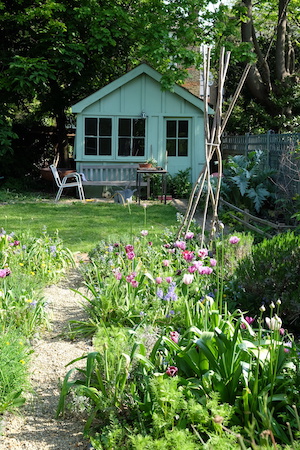 23th April
Planting up pots and trays with runner bean, dwarf bean and rainbow chard seeds. Also anticipating a herb and sweet pea seedling delivery. …Long over due sweep and dust in the shed where there`s a bees nest under the wood floor boards; the bees buzz in through a hole by the door. The plan is to write and work from here on warm days through the summer.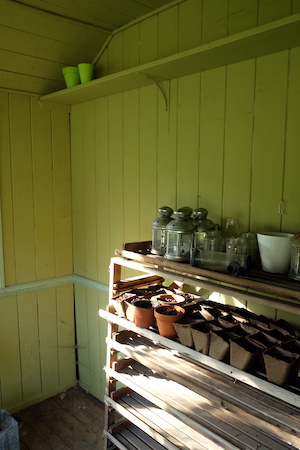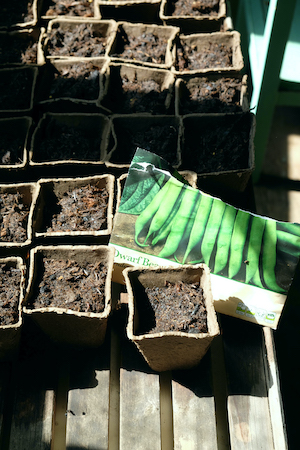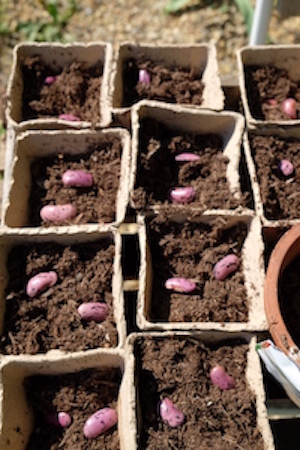 22 April Heavenly scented English country garden sprays of lilac `syringa` from my friend Pam who`s marooned in the US and generously let me forage from her Tulse Hill front garden tree
In my old cloth covered copy of Constance Spry`s ` Simple flowers` A millionaire for a few pence` lilac , not unreasonably is one of her `few penc`e flowers She writes " it grows in the less favoured positions in country gardens as well as many a dusty town yard. Lilac massed in a box or a bowl, set low on coffee table or stool, is not only good to look down on but for such an arrangement short stemmed pieces are suitable , and these last better than longer branches; neither of course do well if one neglects to remove the leaves from the flowering stems, not of course discarding useful sprays but arranging them among the flowering heads though detached from them " So there you have it from Constance.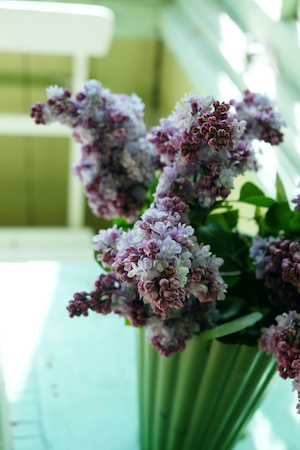 Cardoon: garden awning for Coco cat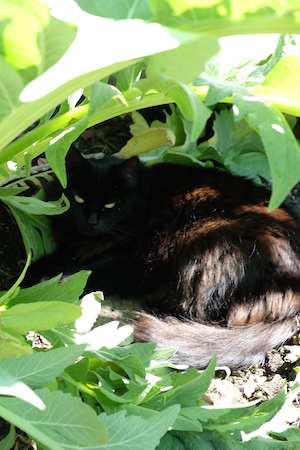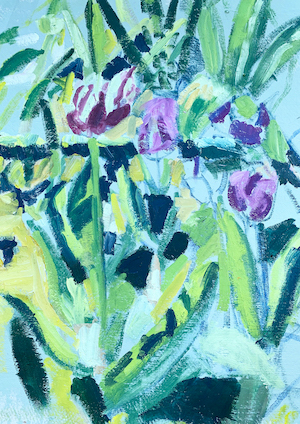 13 April Easter Monday quiet and blossom filled. Would have been flying to visit my Cumberbatch family in Barbados. Trip to the hardware shop in Herne hill. Open. Not allowed into the shop but have to stand by a serving hatch at the door whilst the assistant disappears into the tool hung gloom to fetch what you want. Buy low odour white spirit for cleaning paint brushes, seed compost, peat pots and seeds.

8th april Work and play: though the locations shoots are on hold the house remains multi functional with me per usual in office, one daughter holed up in front room working via Zoom, dog and cat sprawled across various chairs doing absolutely nothing and other daughter
Georgie being creative in the kitchen with smoked mackerel, mashed with yoghurt, lemon, parsley on toast and topped with cooked beetroot. Inviting in colour as well as taste.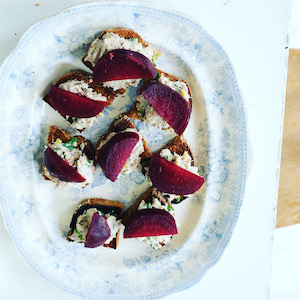 Painting my way through lockdown is good for the spirits.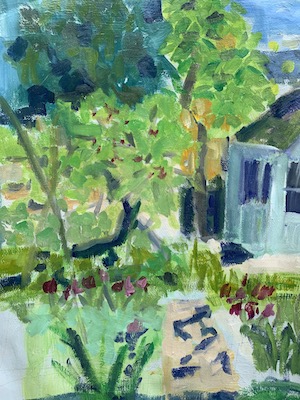 8th April Apple tree blossom unfurling, sycamore filling with slodges of lime green buds. Our beady eyed garden robin hops along the fence in hope of a juicy worm.

You know how you go on for years convinced of something and then find out that you`ve been completely wrong? Using my new Picture This app I`ve discovered that clumps of deadnettles with pretty white flowers (ideal for widflower jugs on the table) are in fact Comfrey plants Also excellent for making comfrey juice fertiliser. I remember using my sister-in-law`s comfrey potion on my tomatoes a few years ago to good effect. See Griselda Kerr`s advice in the Apprenhensive Gardener, Pimpernel Press: "remove flowers regularly to keep the foliage fresh. Pick the leaves, throw away tough stalks and put in a bucket to make a great potash-rich feed suitable for most plants. Weigh down the leaves with a brick, topping up with fresh leaves , adding 10 l water to every kilo of leaves - stir occasionally and leave until it has broken down into a liquid (which stinks). Strain, bottle, keep cool and dark. Dilute again 1;10 to use"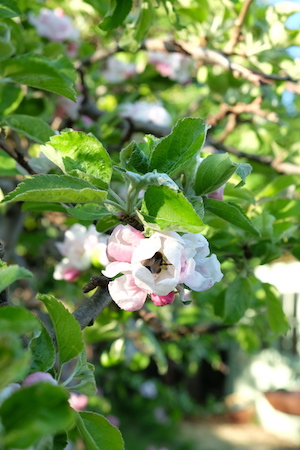 Tags: tulips, spring, garden, lockdown, pandemic, athome, bluebells, lilac,

Spring thoughts
30 March 2020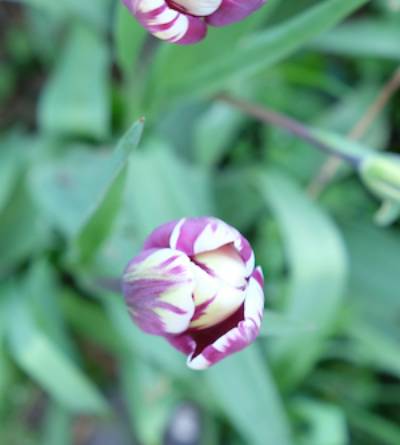 Some good things: road use is down to 1955 levels and the garden powers on in lockdown. The first raspberry ripple
Bicolour flaming flag
tulips are blooming and the apple tree is budding- simple pleasures to alleviate anxiety and the hit by a hammer effect of social distancing and self isolation. Mad humour to match mad times is a good antidote: the vide boss unintentionally appearing as a virtual potato in a group office meeting on Zoom the new way to connect whilst we are stuck inside. I have had my usual pilates class via Zoom and even if we were not together in the flesh it is connecting to see everyone else, to get a glimpse of each others sofa arrangements plus a show and tell of pet dogs, cats and even a lizard.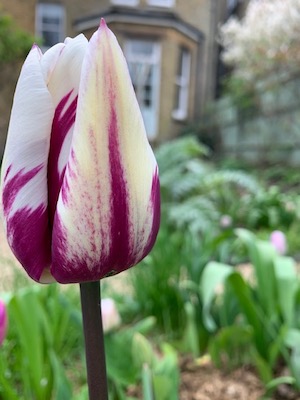 31st march

A host of white and golden narcissi under the apple tree.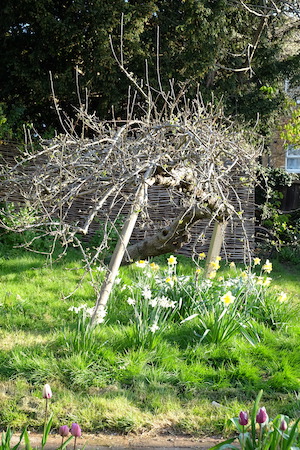 30th March
Fresh and varied Vegetable box delivered from
Smith&Brock
wholesaler who have miraculously reworked their business mode in response to the lock down of events, hotels restaurants and bars and are now sending out consumer deliveries.
Vegetable box candy coloured beetroot and carrots - plenty of time to play around with art now .....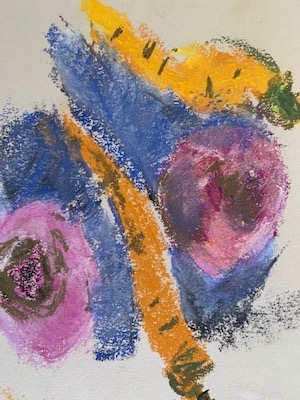 Rescue soup kitchen in our picnic thermos and a posy of spring flowers from the garden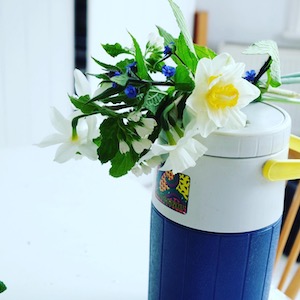 A friend with suspected covid now has pneumonia and so I make her some pea and mint soup. I leave it at her doorstop and wave from at least 2 metres away. She reports that it`s fresh and soothing on her throat. Worrying times.
Pea and mint soup: chop 1 onion, 4 garlic cloves, 2 peeled potatoes, add to a pan with l litre vegetable stock. Bring to boil and simmer for 15 minutes until potato soft. Add handful of chopped fresh mint leaves, 500g frozen frozen peas (petits pois sweeter), juice half lemon, and bring back to simmer for 5 minutes. Season with salt and pepper. Whizz in processor. Can serve with sour cream/creme fraiche/yoghurt.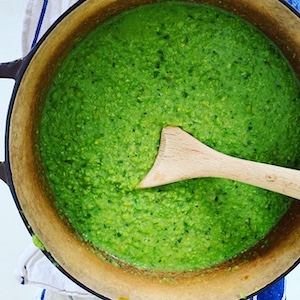 Social distancing in Brockwell Park: a quick charcoal after my run along with everyone else on their once a day exercise, now that we all have stay in. The sun is streaming, sky is clear and the streets are empty. I miss the cold clear lido... Don`t know when we will be swimming again.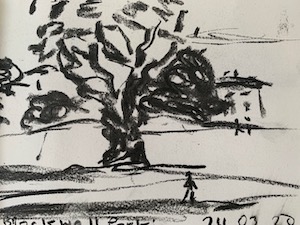 The new gravel is satisfyingly crunchy and adds definition to the beds which are growing in profusion. Think the alliums are going to be fabulous this summer . In the background are my newly planted box plants... I am taking a risk because box blight destroyed the previous hedge but with all things in the garden its worth having another go ..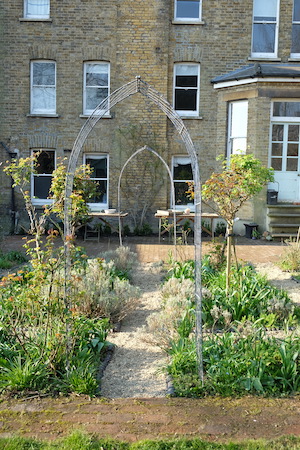 At least the garden`s ready for lockdown even if I`m not. I`m more than lucky to have this space when so many people in London will have to endure confined conditions.

For those new to my garden here`re some notes on my plans for the garden when we moved here in 2003
FROM MY GARDEN BOOK NOTE BOOK: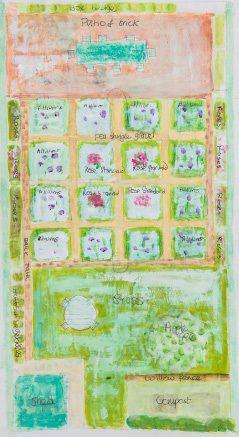 Winter is the time to plan and dream. And over the first one at Palace road I read up on gardens and gardeners, great and small to get me going on the new garden I will dig with the help of Tommy and his gang later in the year. Alexander Pope's advice to the Earl of Burlington – that the gardener consult the genius of the place could certainly apply to my back garden as much as to the 18 century earl's sprawling acreage . The genius in this place is its spacious and leafy,suburban proportions. Where to start?
I rough out a basic plan and thoughts in a notebook. I envision the garden as
a series of outdoor spaces: a journey for the senses, a mix of the formal and
informal , with places to sit and eat or contemplate on a blanket under a blue
sky. Three sections emerge: a patio, a central flower and herb plot divided by
gravel paths and planted at the corners with wigwams of beansticks, and the
grass area at the end with the old apple tree and garden room,. The brief :to
keep it simple, functional, and beautiful. Simple in the sense of layout, functional
in not having time consuming plants, and beautiful in terms of texture
colour and sensuality. Possible obstacles to dash my plans: the unvisual prospect
of a trampoline - at the time my children were begging for one.
I also look with increased focus at the cottage gardens and allotments
on which I will base my ideas. The forerunners of sweetly cobbled or
brick paved front gardens brimming with little clumps of the season's first
snowdrops , near me, and of my own childhood back garden for that matter,
go back to the Middle Ages, and earlier when green fingered monks tended
flowers and herbs in cloister and courtyard gardens. Enclosed by a wattle
fence, hawthorn hedge or stone wall.

23rd March

As the country closes down, loo roll is like gold bars and birdsong takes over from the roar of aircraft, it`s a race against lockdown to ren novate the gravel paths between the flower and herb beds. Gavin and and Karl are my right hand garden team digging out the existing gravel, now thick with weeds and earth spillover after the most torrential winter I have known , and laying down a permeable plastic membrane on which will be spread a thick layer of pea shingle gravel. This should be more weed repelling than previously because the plastic butts up against the earth border of the flower beds.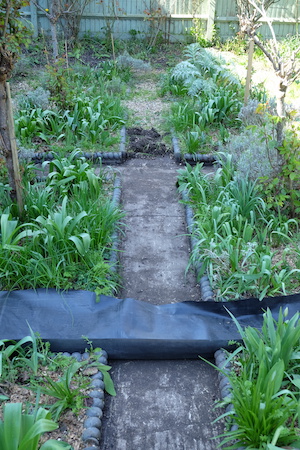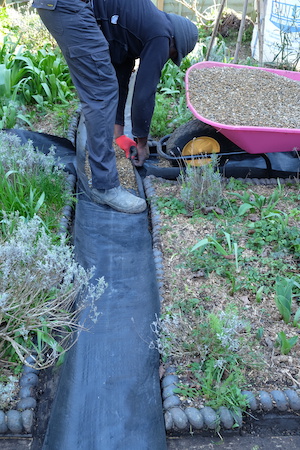 Tags: spring, garden, tulips, lockdown, covid-19, simple, style, growing, coronavirus, everyday beauty,