Apple autumn
04 October 2013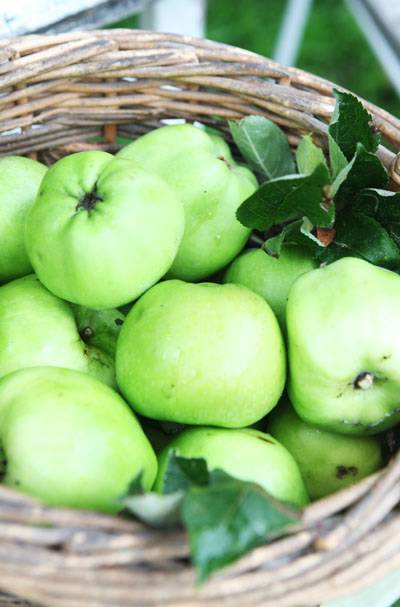 Dew grass in the morning and fallen green apple orbs. Got to get there quick before the slug army advances. The tree is pensionable yet manages to bear me a hefty crop this year. No menopause for trees. I lay the fruit out in the cellar - and hope it will keep crisp for a few weeks. The other thing like my mum used to do is wrap them in newspaper, and store throughout the winter.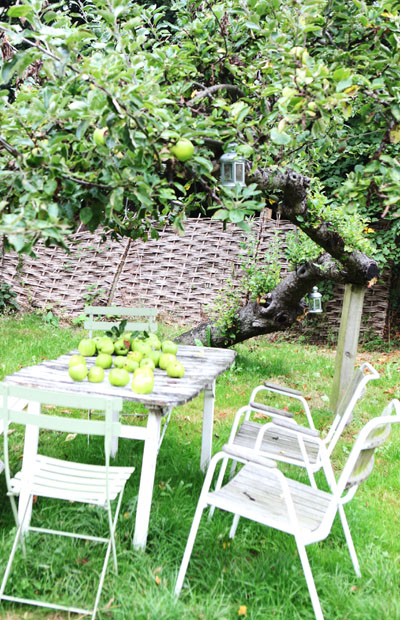 Worried I`m selling out with the new white retro Smeg (Smug?) fridge replacing the leaky larder one I`ve had for 10 years. Thinking strategically though, because it fits with the location kitchen look, and what with all the baking shoots we need more space for chilling dough.
Balanced out the big spend with a sixities Jaeger tweed skirt £13.,50 from the secondhand shop Triad in Brixton. Can`t quite believe how achingly trendy Brixton has become. Five years ago my girls were wary of the dope dealers on the corner by KFC , now they`re dodging the foodie tours , snaking up the high street to Brixton village.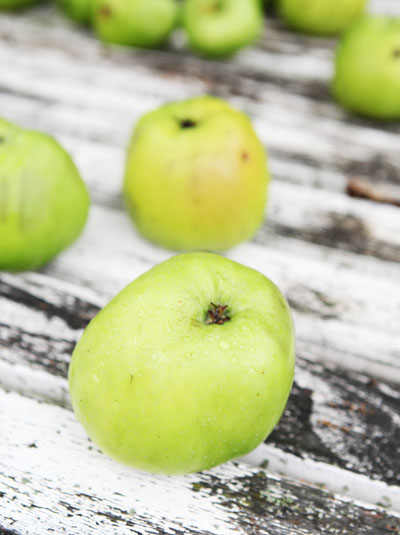 Back to the apples which I peel and chop at speed to make apple and ginger pudding. Think I`ve given you the recipe from my
cook book
before but here it is: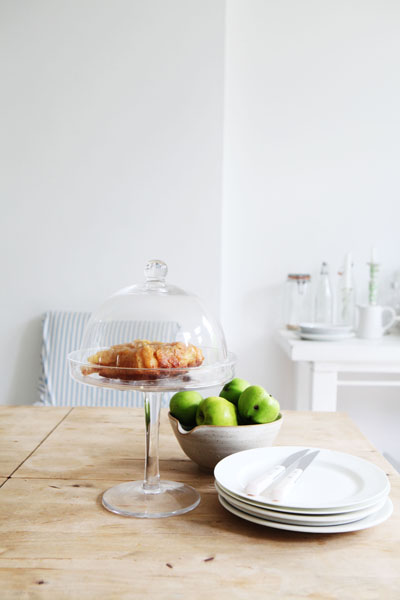 For the syrup
4 cooking or large eating apples
juice of l lemon
90g butter
90g caster sugar
4tbsp syrup from a jar of preserved ginger

for the cake
125 butter softened
124g caster sugar
2 large eggs beaten
125g self raising flour
4 knobs preserved ginger chopped



Peel, core and slice the apples and turn them in lemon juice to stop them going brown. Melt the butter i saucepan.Add the sugar and syrup and stir until creamy and a pale toffee colour. Arrange the apple slices neatly in a greased 1kg bread tin or 23cm cake tin. Pour in the syrup mixture.

For the cake: Cream the butter and sugar together until pale and fluffy, beat in the eggs and fold in the flour with a metal spoon. Stir in the chopped ginger and spread the cake mixture evenly over the apples.
Place in a preheated overn, 190C for about 45 minutes. If the top browns overly reduce the heat.
Test for easiness with a skewer in the middle of the cake. If it comes out clean, with sticky cake mixture on it , it`s gone.
Cool the cake on a wire rack before turning out. Eat with ice cream or creme fraiche.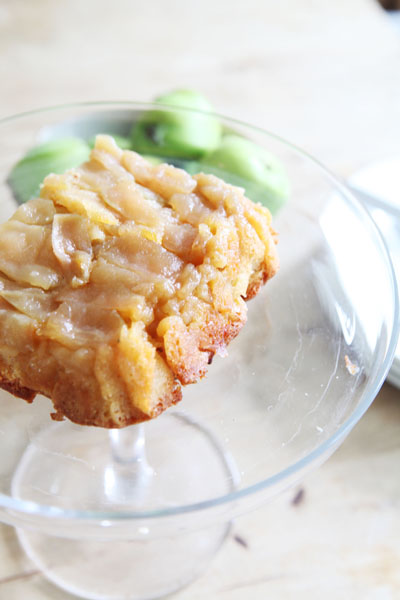 Tags: apples, home cooking, green, autumn