May garden diary
30 May 2019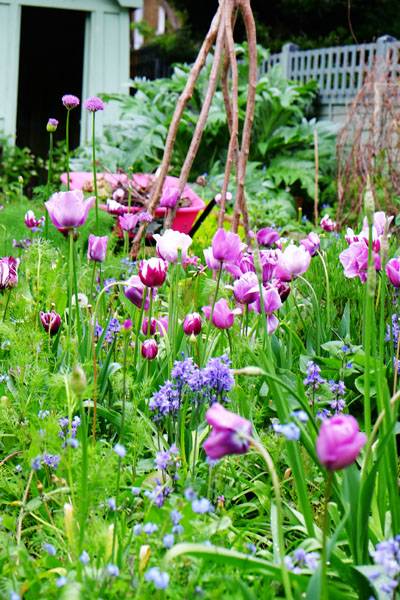 May 9th. 17.00
. Still acclimatised to Melbourne's burnished autumn golds and yellows, plus being being knocked sideways with a return dose of jet lag, I am stunned in a happy way by the garden's brilliant spring greens and exuberant petal pinks and purples . As well as a fluttering crowd of tulips: Violet beauty (purple centre ) Bleu Amiable (pale yellow centre ) Rems Favourite, (raspberry ripple ) Jackpot (deep purple) and Blue Heron (frilly edged petals) self seeding forget me nots and bluebells create vivid blue contrasts, .ogether with feathery lime green nigella and sleek architectural allium stems. The skins on the bobble buds are peeling back to reveal tightly packed, nascent pink and purple florets, which will soon form soft pompom balls - a bee favourite. The recent rain has much plumped up the whole garden scene too and I am heartened that despite radical pruning in February the Constance Spry on the right fence has caught up and is laden with many potential heavy scented pink blooms. Wow, only two days ago I was catching the autumnal scents of damp earth and woodsmoke .
The textures, moods and colours of the
garden
change with the light and weather, giving a sense of life and momentum any time in the year. But somehow late Spring with all its newness and freshness is particularly vibrant.
I love to photograph the garden at all times of the day and can capture a moment with a click of the button. Learning how to paint and sketch its elements forces me to focus in another way. The more I look the more I see the way in which petals and leaves are arranged on a plant for example. It`s good this looking and noticing, meditative even , an antidote to my over reactive life on the smart phone.

The crowds of tulips are all glossy with beads of rain and a grey brooding afternoon sky enhances and saturates the garden`s rich pink , blue and green palette.

From top: Rems favourite and Jackpot. In background: Violet Beauty.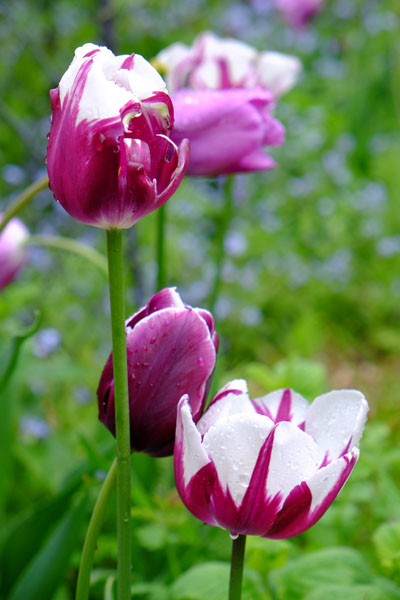 May 12th 0.800
Morning light and shade The delicate structures of self seeding forget -me- nots and nigella are perfect ethereal textures.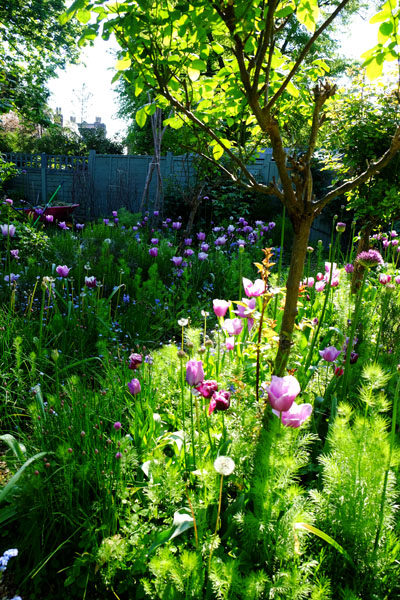 May 13th 18.00
Flat light again but fabulous for seeming to draw the intense tulip colours closer to the eye … do you see how the pinks of Violet Beauty become cooler and more blue?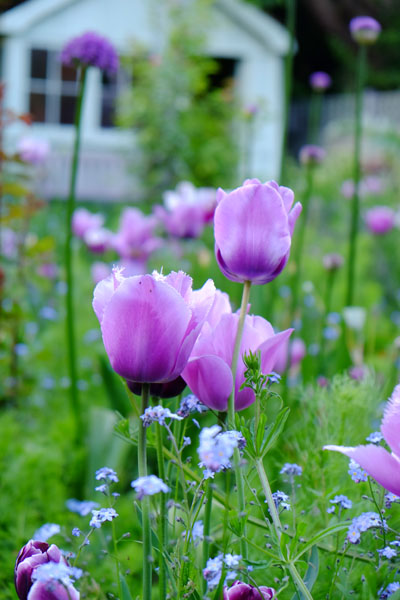 MAY 16th 08.30- Bathed in morning sunshine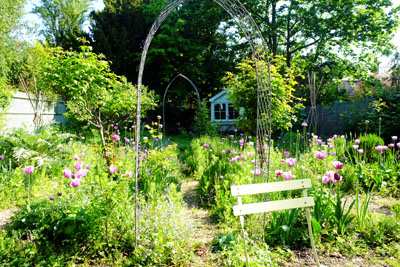 May 21 15.00
The tulips are winding down - most of the vivid pink and white striped Rems favourite are over - and the alliums are taking centre stage to create a more uniform splash of purple and mauve. Many are repeats from previous years, but I have added new plantings of large headed gladiator; tall and leggy rosenbachianum and christophii- more stubby but with beautiful heads of star like flowers.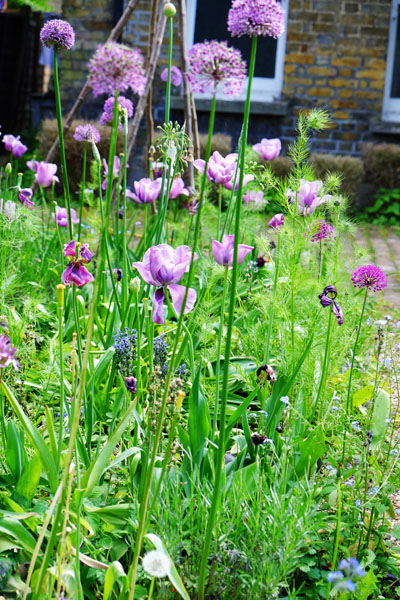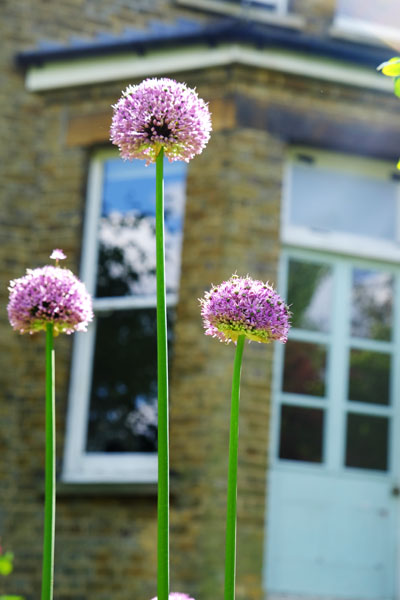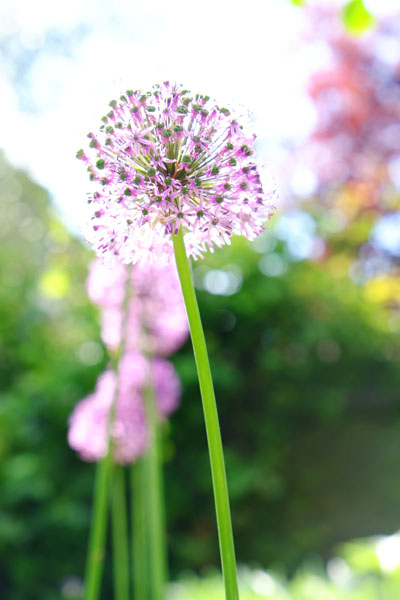 I didn`t make it to the Chelsea Flower show or rather didn`t get round to organising a ticket in advance, but Jane Perrones highlights in The Guardian describe green being the dominant theme, literally and metaphorically . The main avenue was awash with broad-leaved tress among swathes of cow parsely, euphorbias and meadowsweet. Topiary got soft and lower as designers for soft mounds of yew, pine and beech over tightly clippped box balls as seen on Tom Stuart Smiths RHS Bridgewater garden and Kate Gould`s Greenfingers garden. Christ Beardshaw`s Morgan Stanley garden was a good attempt to minimise the environmental impact of a transient Chelsea plot , carrying out groundworls using an electric excavator instead of a diesel engine, and growing plants in recyclable pots. In Jilayne Rickards` garden for the Campaign for Female Education, there was a water wise raised bed system for growing food anywhere. Its made from reclaimed brick with a rubble-filled reservoir at its base fed by rainwater or grey water. There were the usual on trend details , such as a raised bed clad in hammered copper in David Neale`s Silent Pool Gin garden and a log wall in Paul Hervey-Brookes` Art of Viking Garden. I am rather keen on one of Allitex`s decorative greenhouses for the National Trust... I can see myself potting away happily in one with the radio going and a cup of tea.

Meanwhile outside there is a fabulous flush of roses on the left sunnier side of the garden . I walk outside first things to the combined and heavenly sweet scents and pink blooms of Gertrude Jekyll, John Clare, and Constance Spry.


Tags: